Because Unlimited, Inc. offers the best, 95 percent of our solid surface sales are of Corian®. We can shape, carve, sculpt, bend, inlay, route and twist to almost any specification. If you can think of it we can most likely fabricate it.
In addition to Corian®, we are manufacturer certified in all the major solid surface brands and can create and customize most anything to suit your design needs for any kitchen, bath or bar top including:
Custom Showers
Bath Enclosures
Tub Decks & Surrounds
Table Tops
Windowsills
Wall Caps
Outside Weatherproof Bars
Cabinets
Moldings & Trim
We are capable of working with homeowners on a personal basis for building, upgrades or remodeling projects and welcome inquiries from architects, commercial and remodeling contractors and cabinet makers.
Many homeowners, kitchen and bath dealers, home centers and businesses use Unlimited, Inc. as their fabricators of choice on projects such as:
Lodging
Health Care Applications
Banks
Hospitals
Casinos
Restaurants
Airports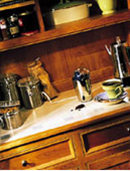 Unlimited, Inc. is fully licensed and insured. We are able to bid on all categories of work including residential, commercial, government and military.
Please feel free to use our order form or call us at: 405-820-3170 for a quote or additional information.
Related Images: